Why would I need a GooseBuster?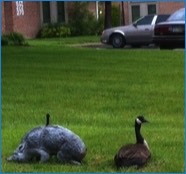 The resident Canada goose population continues to grow at an amazing rate throughout the United States. Geese are becoming year-round residents in our areas and they no longer fear people. This makes them a nuisance, especially when they become aggressive during their nesting season. A pair of geese can, in 5 to 7 years, easily become 50 to 100 birds that are fouling ponds.
These same geese can damage five square feet of turf daily and can eat up to three pounds of grass a day. As they continue to inhabit public and private space, they can cause traffic and other human hazards, in some cases attacking humans to protect their nests.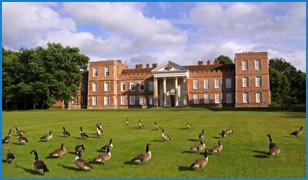 Geese = Not the most clean or pleasant situation.
When Geese occupy your property, goose droppings and feathers litter the landscape, negatively impacting both water quality and land use. Each Goose can deposit a pound and a quarter of droppings each day (which may carry e-coli bacteria).

This can make a public park, school, golf course, or private property very unpleasant to take a walk through.
The owners of
GooseBuster
, after 15 years of traveling the East Coast, realized the need for a safe yet humane way to discourage geese from occupying - and/or damaging these spaces. Centrally located in Centerville, Ohio,
GooseBuster
is committed to providing the most efficient, HUMANE and practical solutions to the Canada Geese problem. By using a variety of environmentally safe, State and Federal approved strategies, including our highly trained team of Labrador Retrievers and Border Collies, who make daily visits year around to client properties, we provide a very effective solution for schools, parks, athletic fields, office areas, golf courses, cemeteries, churches, residential communities, and private properties.
Due to overwhelming demand, the
GooseBuster
service area now includes the Dayton, Cincinnati and Columbus regions of Ohio. We have been very successful in the Dayton and Cincinnati areas since 2005, and recently expanded to open a new division in Columbus, Ohio.
See what our clients are saying about GooseBuster...
Otterbein St. Marys Senior Lifestyle Community is a full-service continuing care retirement campus serving nearly 240 residents daily. Our nearly 90-acre community is nestled along the beautiful & tranquil shorelines & channels of Grand Lake St. Marys - a perfect habitat for the Canada geese population. In the past few years the geese numbers "exploded" on campus creating all kinds of problems for residents & visitors. Literally, on any given day throughout the year, hundreds of geese could be observed at almost any location on campus. That was before we entered into a service agreement with Mark & Robyn Dormire & GooseBuster, and our community's residents, staff & visitors could not be more pleased! We contacted Mark about 1 year ago after learning of his service, and he instantly drove to the campus and conducted a thorough & professional analysis & assessment of our community's needs in providing a remedy to rid us of the pesky geese. ALL of our concerns, a year later, have been resolved, and, it is rare, if ever, a goose is sighted on the community's property. In addition the service has eliminated the unsightly messes on walkways & roadways left by the droppings. New stands of grass thrive since the geese no longer feed in these areas. The service has saved considerable labor hours in our environmental services department; workers no longer spend hours cleaning the roadways & walkways from the droppings left by the geese. During the nesting season & subsequent weeks of rearing the goslings, our residents do not fear for their safety while walking or riding their bicycles due to the threatening behavior of the protective older geese. Most importantly, our residents are happy! Our friendly, "goosebuster", Bill, who is assigned to our community, along with his loving canine companions & "co-workers", are a welcomed addition - so friendly, professional & thorough in their mission, AND, he works 24/7 to keep the geese from returning to their favorite spots. His objective is to "harass" the geese using trained dogs & other techniques in a consistent manner never harming a single one. The geese are literally conditioned throughout Bill's consistent efforts to by-pass our community in their flight & search for a place to congregate, feed & nest. Furthermore, Goosebuster works with their clients to facilitate obtaining necessary permits through the Ohio Department of Natural Resources. Our relationship with Mark, Robyn, Bill & their K-9 friends has been perfect in every way. They are the ultimate professionals & service providers. They ensure instant, consistent & on-going results. I most highly recommend their services!
Fred Wiswell, Otterbein St. Mary's Senior Lifestyle Community
I just wanted to thank Mark and Robyn for the great service they have provided for our communities. They are dedicated to giving the best service they can possibly provide. It was great to watch the dogs at work. They obeyed as well as any dog I have ever seen. Also a big thanks to Zoey the dog. I would recommend the GooseBuster to anyone else with goose problems, for the price you can't do much better.
Peter Oakes (Design Homes/Oakes Properties)
As a Property Manager for Hills Communities, I've had the pleasure of using GooseBuster now at 2 of my sites. There are millions of reasons why we love using them, but I'll focus on what really makes them outstanding. To start, the service they provide has greatly mitigated any problems commonly associated with geese. As an apartment community, prospective residents are always skeptical of our lakes because the fear of unfriendly and intimidating water fowl. With a quick call or text, Mark, Robyn, and the dogs are here to clear the grounds. It's truly remarkable to watch them in action as the dogs are given hand signals and then take off through fields, marsh, and lakes with ease. Yesterday, even Mark was up to his knees in mud and water. It's fun to see owners and dogs both take such pride in their work. I highly recommend Goosebuster to anyone with land or a business that is susceptible to geese. No more cleaning sidewalks, taking alternate routes to avoid confrontation, or 5 minutes of stopped traffic while you wait for the whole family to clear the road. They're worth every penny!
Mike, Hills Communities
Who you gonna call? Goosebusters!
Sarah