Ohio's Leader in Geese Management - the Safe and Humane Removal of Canada Geese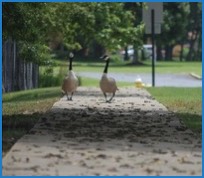 Goosebuster
is committed to providing you with the most efficient, HUMANE and practical solutions to your Canada Geese problem. We use a variety of environmentally safe, State and Federal approved strategies including our team of highly trained Labrador Retrievers and Border Collies with daily visits to your property year round, to regularly discourage the settlement of Canada Geese on your property.
By providing this safe and natural deterrent to the geese,
Goosebuster
helps to eliminate damage to property, excessive geese droppings and cleanup, and potential attacks of territorial geese upon your patrons and visitors. This provides the most effective solution for schools, parks, athletic fields, office areas, golf courses, cemetaries, churches, residential communities and at your location.
Safely get rid of the geese and take back your property!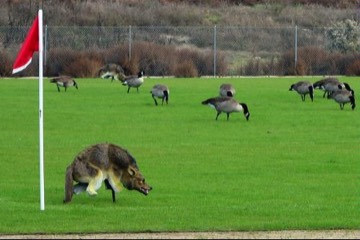 These geese know the difference between a real coyote and a fake one sold to unsuspecting property owners.
Don't fall for it
- because as you can see, they are not effective - just a waste of your money.
Take a look at the reviews here on Amazon
-
THEY JUST DO NOT WORK
.
Goosebuster
will not offer these fake coyotes and ineffective goose deterrents, unlike some of the other providers selling these as a method of control. Bottom line,
these will not make a difference the way a team of dogs will - and
in some cases, these props actually DRAW more geese!
GooseBusters LLC is licensed, certified, and insured in the State of Ohio.
Meet the True GooseBusters